Environment of Equality
Woodlands School maintains a 'zero tolerance' approach to Harmful Sexual Behaviour and homophobia. These societal issues manifest themselves in schools and any sexualised behaviour between peers that has become harmful or abusive is unacceptable and must be addressed.
Our school recognises that children and young people are vulnerable to and capable of abusing their peers sexually. We consider any allegation of peer on peer sexual abuse seriously and do not tolerate harmful sexual behaviour.
The principle aim of our approach is to foster the conditions in which our young people can aspire to and realise safe and healthy relationships, at school and as they continue in life. We work to cultivate a culture in which the voice of our young people is central, where our young people feel able to share their concerns openly, knowing that they will be listened to, and that they will not be judged.
We use relationships, our AROE curriculum (RE or RSE and Health Education curriculum) to help our young people understand, in an age-appropriate way, what harmful sexual behaviour is, including by peers. We teach them the knowledge they need to recognise and report abuse, including emotional, physical, and sexual abuse. We also teach them about the importance of making sensible decisions stay safe (including online), whilst being clear that if a CYP is abused, it is never their fault.
Please see our Harmful Sexual Behaviour/Peer on Peer Abuse Policy below for more information.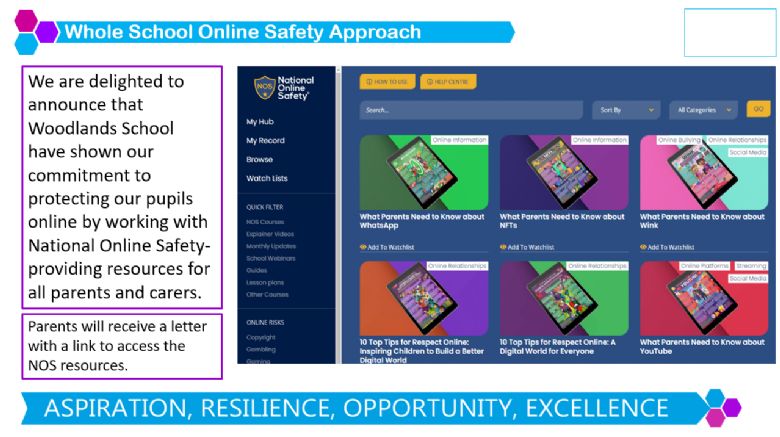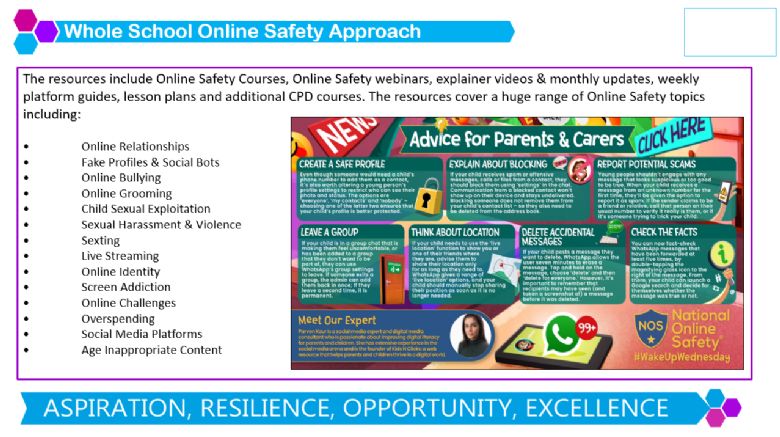 The resources include Parents & Carers courses, online video resources and weekly guides covering a huge range of topics, to create your account, please follow https://nationalonlinesafety.com/enrol/woodlands-school-2 and complete your details. When you're set up, you'll be able to set 'Parent/Carer' as your user type, which gives you access to all the resources.
You can access National Online Safety online via any device - including via smartphone app.