Spanish
Spanish is the language spoken by 486 million people and in over 20 Countries. Learn to speak it and you will never be too far away from a friend. The power of language knows no boundaries.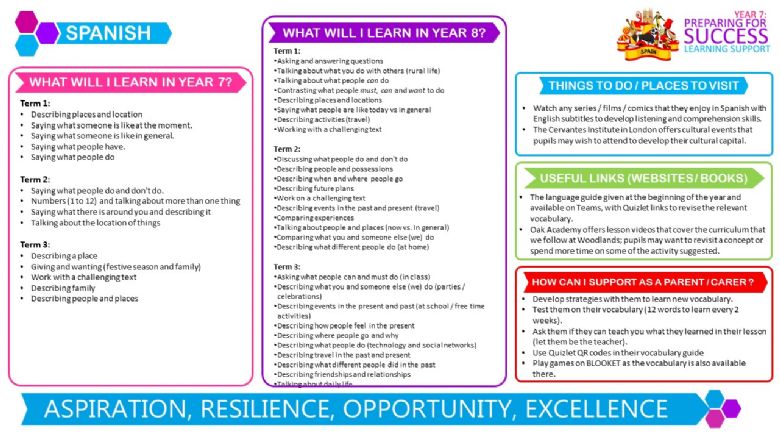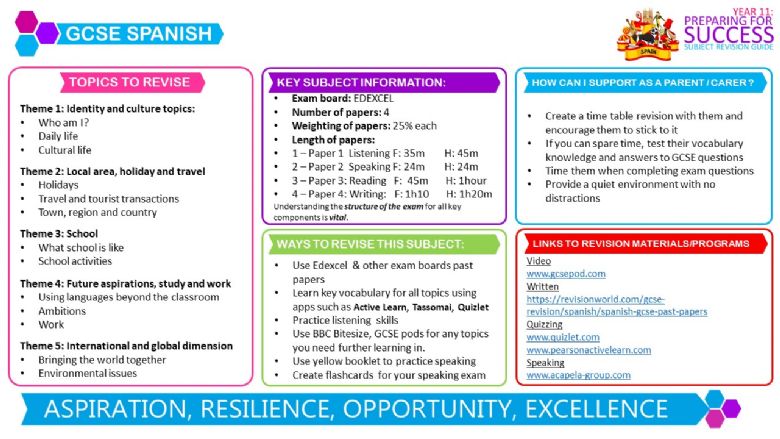 Useful online resources for GCSE Spanish students:
GCSE Bitesize has a section for higher level students. The website provides help and advice for
obtaining the highest grade and has mock questions and feedback.
http://www.bbc.co.uk/schools/gcsebitesize/spanish/
http://www.bbc.co.uk/schools/gcsebitesize/spanish/examskills/
MFL Sunderland has a variety of resources to practise for the GCSE Spanish examinations.
http://www.sunderlandschools.org/mfl-sunderland/resources-sp-ks4-wks.htm
Spanish Revision has a variety of resources on all four skill areas.
http://www.spanishrevision.co.uk/gcse/gcse_index.htm
Language Resources contains materials listed by subject area. Each resource has a note in the righthand column advising of its suitability by Key Stage.
http://languagesresources.co.uk/SpanishIndex.html
SpanishDict: excellent website to practice verb conjugations and other grammar practice, including
flashcards and quizzes.
Websites where you can listen to higher level /authentic materials
-Materials for each part of the GCSE exam
http://languagesresources.co.uk/home/spanish-exam-help/
A website for practising vocabulary
http://quizlet.com/subject/spanish/
A variety of phrases, vocabulary, grammar
http://ielanguages.com/spanish.html
Spanish video quizzes higher level topics include healthy living, work and careers, social and
environmental issues
http://www.ashcombe.surrey.sch.uk/07-langcoll/MFL-resources/Spanish/sp-video-index.shtml
Spanish phrases with sound
http://www.learn-spanish-faster.com/
Free videos with worksheets and transcripts-subscription needed to access all of the content
http://www.thisislanguage.com/
Links to Spanish TV and news
http://www.bbc.co.uk/languages/spanish/tv/onlineprogs.shtml
There are many free Apps available for smart phones/iPads/tablets.
Websites to practice your reading skills
Magazines
Search engine for Spanish magazines with free sample pages
http://www.lasrevistas.com/infantiles.htm
Newspapers
Obviously the articles contained in newspapers will be difficult, but have a look at the shorter
articles/weather forecasts/photograph titles/headlines etc
Spanish TV
http://www.rtve.es/television/
BBC guide to accessing Spanish TV channels