Safeguarding
At Woodlands School we take safeguarding incredibly seriously, it is the single most important consideration of all of it's staff members and visitors. We work together to ensure that every member of the community is safe and therefore able to thrive in a nurturing environment where barriers to learning and engagement are removed,
Our pastoral care reaches the highest standard. All of our young people have a form tutor and Head of Year to support them, offering information, advice and guidance throughout their time with us. This is complimented by a dedicated safeguarding team, Assistant Heads of Year, internal counsellors and our work with external agencies.
We believe in educating our young people and community members in the best ways to keep safe and work tirelessly to ensure that our provision is current, robust and supportive.
Our Safeguarding Team is led by Mr Riste
If you are ever concerned about the safety of yourself or another student please refer this to the school's safeguarding team through the staff members below. Your concerns will be taken seriously and may require a follow up conversation.
Mr Riste - Safeguarding Lead - DRi@woodlandsschool.essex.sch.uk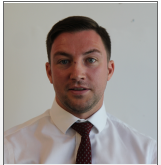 We also have the following staff as part of the Safeguarding Team:-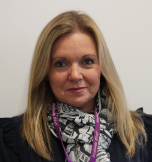 Mrs Nicola Nichols - Deputy Designated Safeguarding Lead - NNi@woodlandsschool.essex.sch.uk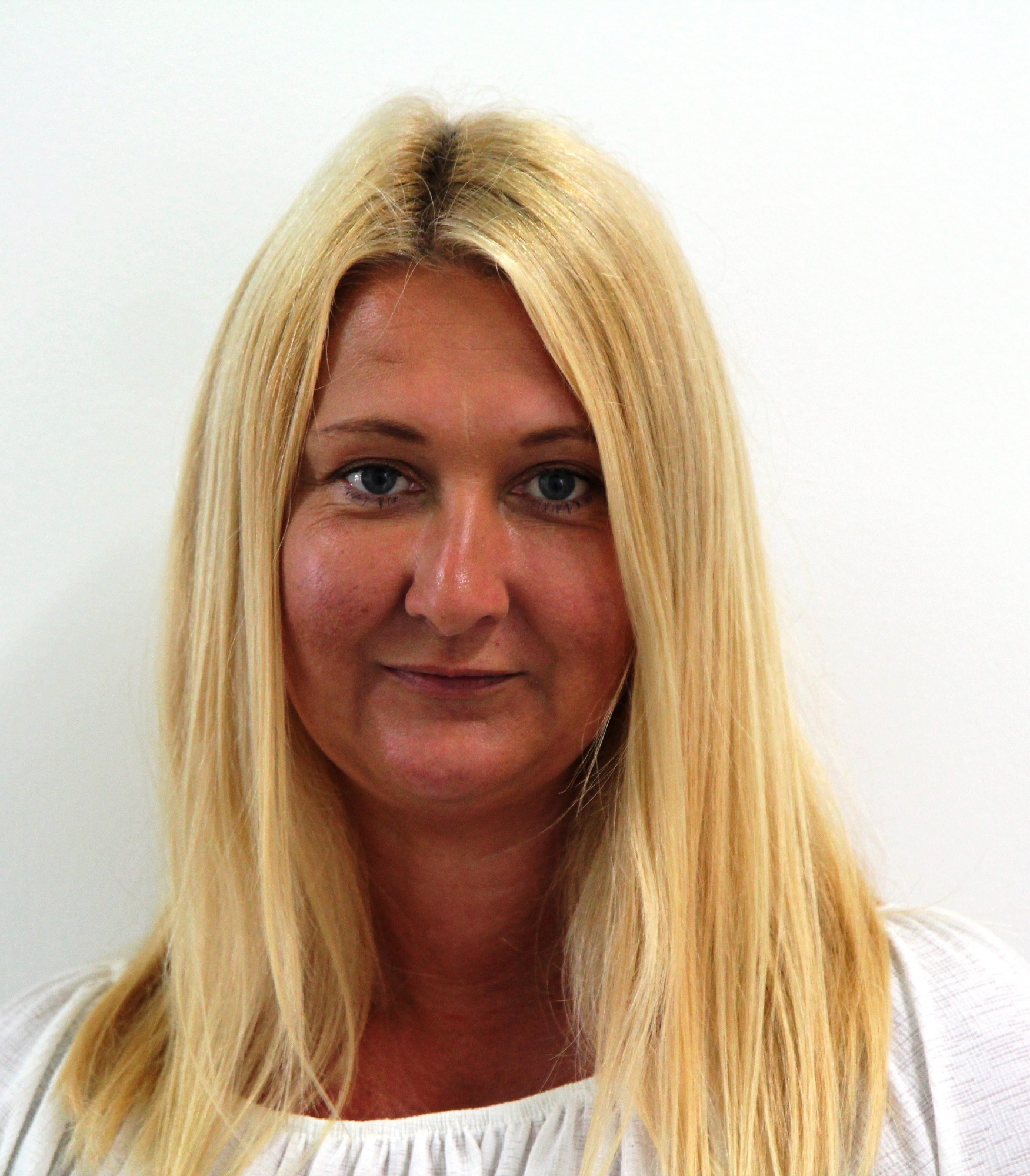 Mrs Janet Clarke - Deputy Designated Safeguarding Lead - JCl@woodlandsschool.essex.sch.uk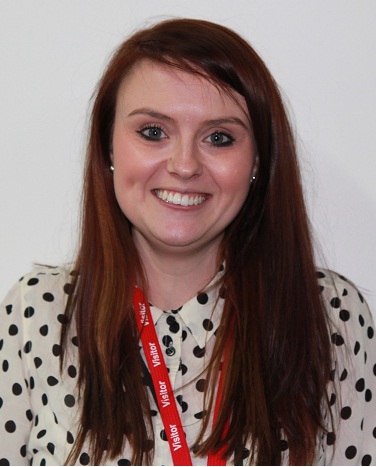 Mrs Luka Atkinson - Deputy Designted Safeguarding Lead - LAt@woodlandsschool.essex.sch.uk
At Woodlands School we want all of our young people to be safe. All of the staff receive up to date child protection and safeguarding training.
Useful sources of support:
CEOP works with child protection partners across the UK and overseas to identify the main threats to children and coordinates activity against these threats to bring offenders to account. We protect children from harm online and offline, directly through NCA led operations and in partnership with local and international agencies.
Please click on the link below for some useful and crucial information from UK Safer Internet Centre with regards to smartphones, gaming devices, tablets and other internet-connected devices:-
https://www.saferinternet.org.uk/advice-centre/parents-and-carers/parents-guide-technology
National free and confidential advice for all young people aged up to 19. Can be accessed for free by calling 0800 1111
National Domestic Violence Helpline Refuge (Click Here)
Support and information for women and children who are experiencing violence, or have experienced violence in the past
A national website set up to provide counselling, advice and support to remove oneself from domestic abuse. It is for anyone forced to change their behaviour because they are frightened of their partner or ex-partner's reactions.
Domestic abuse can happen to anyone, regardless of age, background, gender, religion, sexuality or ethnicity. However, statistics show most domestic abuse is carried out by men and experienced by women. Help for those that are experiencing domestic abuse
24hour free telephone line: tel: 0808 2000 247
Online counselling and support for all Young People
Internet Matters - Parental Controls (Click Here)
A useful site that supports parents to put appropriate controls on phones, tablets and laptops
A website that provides information and advice on online relationships
Disrespect Nobody (Click Here)
A campaign to help young people understand what a healthy relationship looks like.
An organisation that exists to promote the needs and rights of women and girls who have experienced sexual violence
Environment of equality
Woodlands School maintains a 'zero tolerance' approach to Harmful Sexual Behaviour and homophobia. These societal issues manifest themselves in schools and any sexualised behaviour between peers that has become harmful or abusive is unacceptable and must be addressed.
Our school recognises that children and young people are vulnerable to and capable of abusing their peers sexually. We consider any allegation of peer on peer sexual abuse seriously and do not tolerate harmful sexual behaviour
The principle aim of our approach is to foster the conditions in which our young people can aspire to and realise safe and healthy relationships, at school and as they continue in life. We work to cultivate a culture in which the voice of our young people is central, where our young people feel able to share their concerns openly, knowing that they will be listened to, and that they will not be judged.
We use relationships, our AROE curriculum (RE or RSE and Health Education curriculum) to help our young people understand, in an age-appropriate way, what harmful sexual behaviour is, including by peers. We teach them the knowledge they need to recognise and report abuse, including emotional, physical, and sexual abuse. We also teach them about the importance of making sensible decisions stay safe (including online), whilst being clear that if a CYP is abused, it is never their fault.
Please see our Harmful Sexual Behaviour/Peer on Peer Abuse Policy below for more information.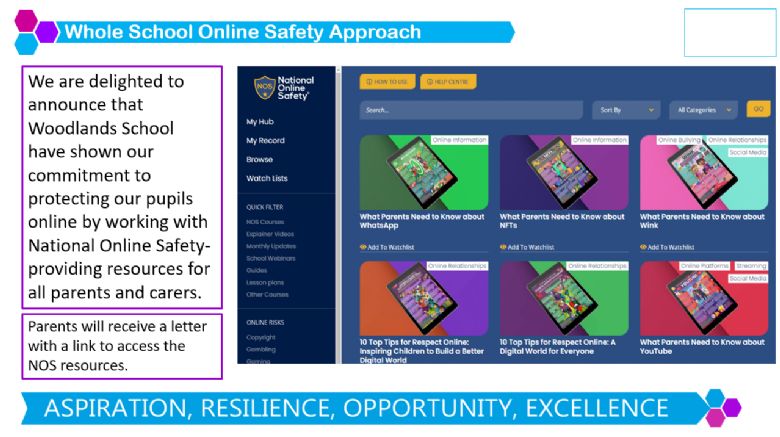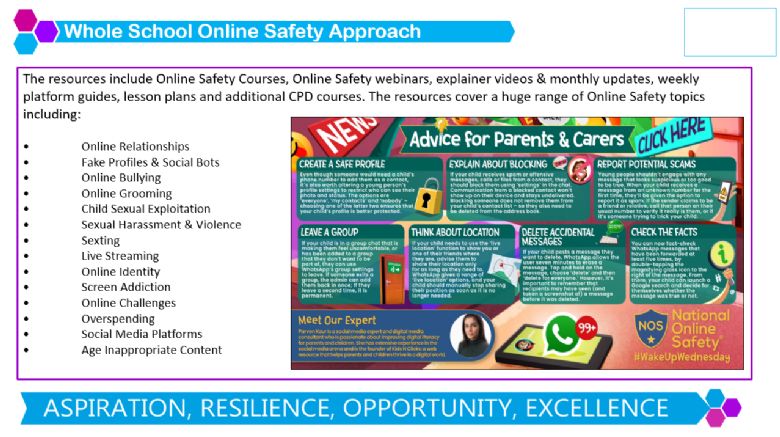 The resources include Parents & Carers courses, online video resources and weekly guides covering a huge range of topics, to create your account, please follow https://nationalonlinesafety.com/enrol/woodlands-school-2 and complete your details. When you're set up, you'll be able to set 'Parent/Carer' as your user type, which gives you access to all the resources.
You can access National Online Safety online via any device- including via smartphone app.