Events and NewsReel
Pastoral Website News Feed:
Resilience Club -
Gemma won the Jack Petchey award. With the winnings she donated it to the Resilience Club. We purchased a karaoke machine and had a treat of a Domino's Pizza, as some of the children in the club have never tried pizza. This was a celebration for doing well with building their resilience throughout the year. Gemma wanted to give these pupils something to remember her with.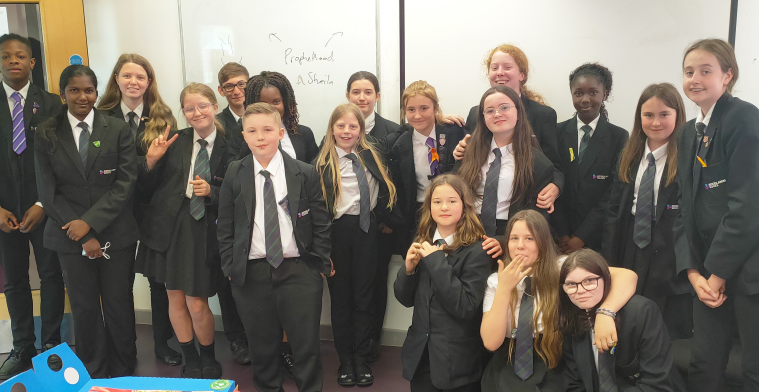 Firebreak – during the week commencing 25th April, selected boys from year 8 and year 9 had the fantastic opportunity to go to Wickford Fire Station on the Firebreak course.
The course took place over the entire week, during this time students are put through their paces sampling what firefighters go through during training and on a daily basis whilst on watch. Students learnt valuable team building skills through drills and exercises. Resilience was raised as students were encouraged to come out of their comfort zone and put their fears aside. During the course they also learn basic first aid, CPR and how to deal with someone choking. There was a classroom based element where lots of group work and discussions were had. This time around, the topic was to raise awareness/education for young men regarding violence against women and girls. This didn't assume the young men would necessarily be involved in negative/misogynistic behaviours towards girls but emphasised creating positive ambassadors to other young men regarding their responsibility in supporting the creation of safer environments for women and girls. Completion of the course also offers half a GCSE at a grade D.
On the last day in the afternoon parents and school were invited to watch the Pass Out Parade. The students put on a show of all the skills they have learnt over the week. And what a show it was! To see all the boys working together, to see them proud of their achievements, the atmosphere was full of excitement.
The fire officer in charge reported how impressed he and all the other firefighters were of the excellent behaviour and maturity of all the boys.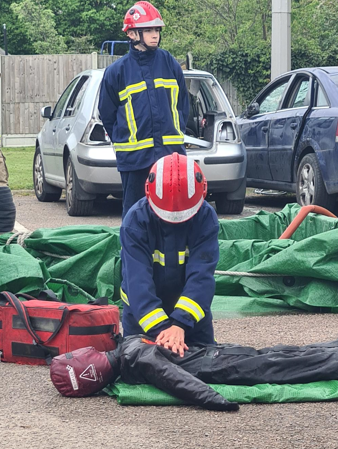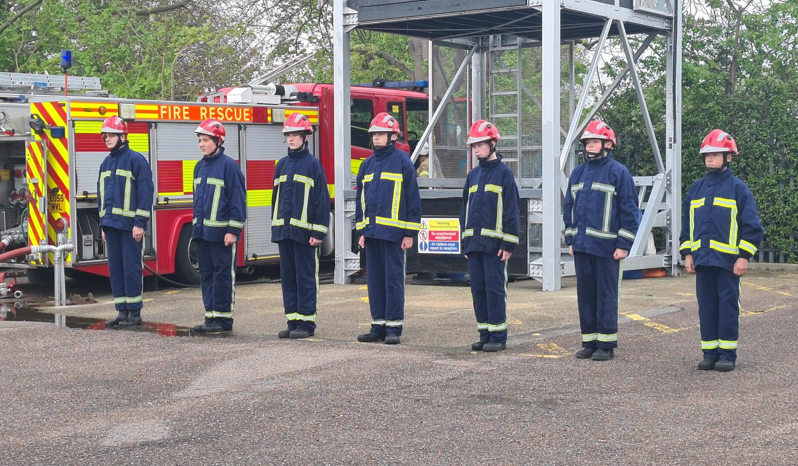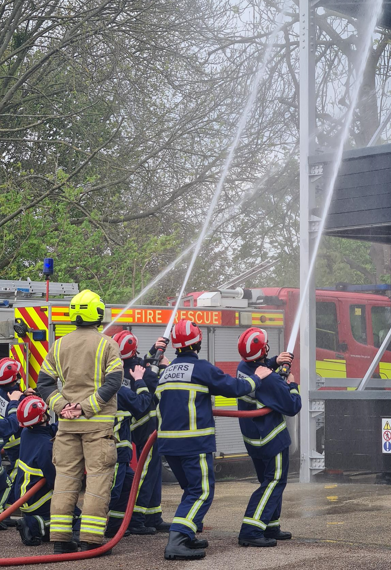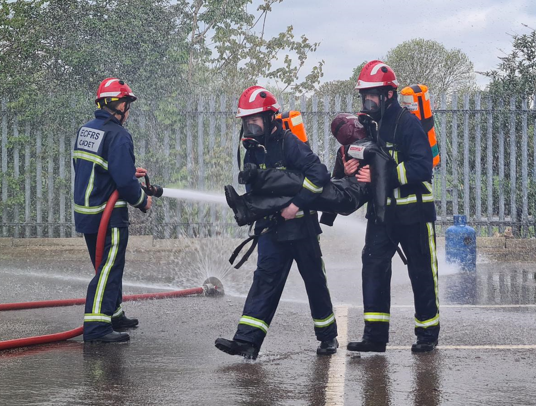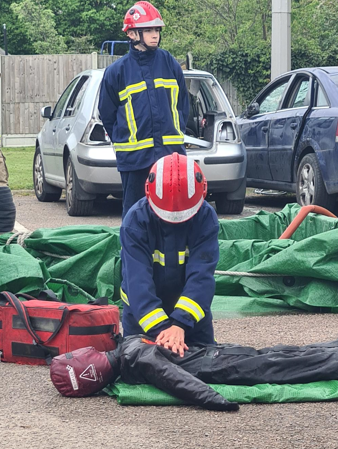 February 2022 - Building Lives Project
Building Lives Project are an outside agency we have been fortunate to have in at no cost. They work with young people who are identified as being at risk from: CSE, CCE, gangs, drugs, knives, risky behaviour, risk of exclusion, risk of NEET and anti-social behaviours. Through mentoring over a 12-week course, the aim is to re-educate and show that there is a way out, another path can be taken and support is there during the process. The mentors also work with the families and continue supporting during school holidays.
December 2021 - Christmas Hamper project
The Resilience Team continues to be utilised around the school. Our versatile members have been supporting Year Groups as temporary Heads of Year, The attendance team as Reintegration plan hosts, as well as continuing work with our vulnerable and hard to reach pupils and families and supporting those pupils who experience barriers to their learning. The lead up to Christmas saw us working together with us in school and the surrounding community. We set up a Woodlands Go Fund Me page for our Young Carer pupils, who need extra support with financial strain during the festive and winter months. Funds raised have supported low-income families with additional cold weather and uniform payments, as well as essential food supplies. Our Winter Harvest was an enormous success; we were able to provide 30 families with Christmas essentials including meat, fresh produce, presents, and dessert treats and decorations- photos below. Our Young Carer community continues to grow; we're supported in our work by the Essex Youth service and The Kool Carers and Action for Family Carers charities. Young Carers continue to have access to 1:1 and group Keyworker support, as well as social time activities and rewards. Two of our KS4 pupils have been awarded brand new laptops from AFFC to help them continue their studies post 16 as well as other pupils receiving social and clothing grants. We look forward to welcoming Ofsted when they arrive; we're keen to share our effective methods and strategies for breaking down barriers to learning with them.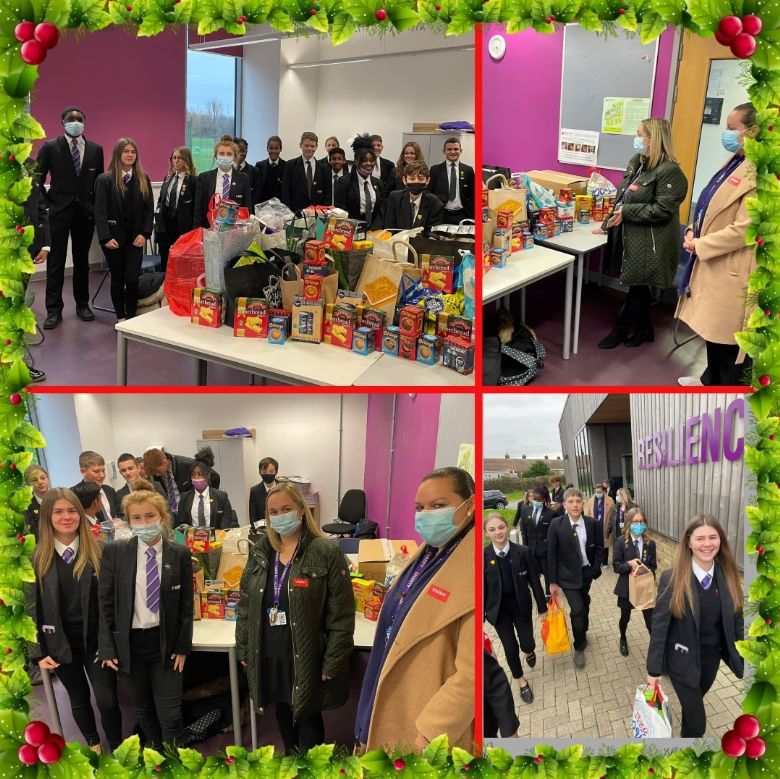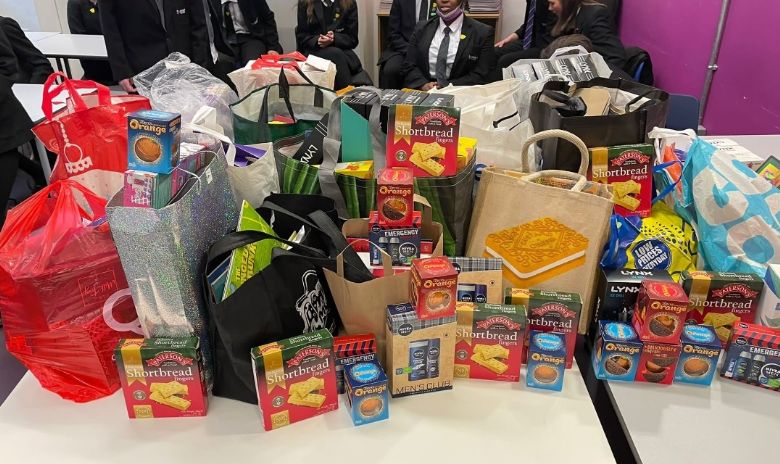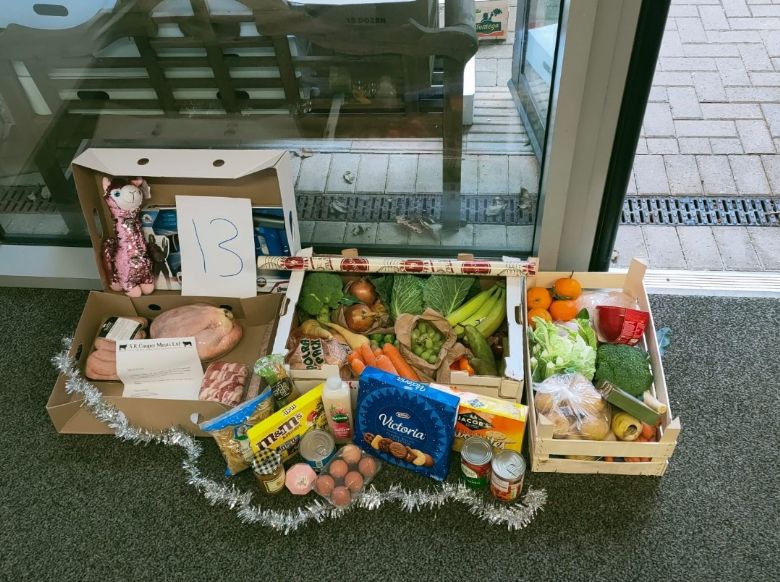 November 2021
Girls Gain - This is an intervention for pupils who are 12 years plus. All eight sessions are active and engaging, using resources from Headspace and Calm. Please see below the topics covered:
How I see myself? What I have to offer, what is unique about me?
Positive relationships and broadening friendship groups
Mood and Food - how what we eat affects our mood, sleep pattern
Changing negative & unhelpful thoughts-we feel the way we think
Reflection- How I see myself? What have been the changes, improvements?
Trying something new - Pushing ourselves out of our comfort zone
Talking ourselves up-self-belief, moments of pride
Relax and review-mindfulness and calming techniques
October 2021
Go Girls – these workshops gain the support from Barnardo's Children charity and have been focused on female pupils with zero confidence, high anxiety, those who feel uncomfortable in a group, learn techniques to feel part of something, raise self-esteem. The workshops will continue with a new cohort in January 2022
October 2021
Resilience Ambassadors - The resilience team has successfully launched the Woodlands Resilience Ambassadors. These pupils have undergone professional training to be able to support other more vulnerable pupils. There has also been support and supervision provided throughout for ambassadors. As well as safeguarding training for the Resilience Ambassadors completed by Designated SG Lead DRi and SAm. Their future role will include the following activities.
Shadow and support the resilience coaches
Support group work activities
Promote resilience within the school
Promote the work of the resilience team within the community
Support and mentor other pupils
Help write pupil friendly resilience policies
Work as a committee to evaluate and improve the work of the resilience team
September 2021
Chelsea Foundation FC – this is a Year 8 intervention that runs throughout the year. We have a new cohort of pupils every half term, this physical workshop uses football as a vehicle to develop leadership, Motivation, Team work, as well as investigating current affairs. It also helps to improve the pupils' fitness, wellbeing and football skills.
September 2021
Boys need to know – these 5 weekly sessions for boys work with pupils with Personal Support Plans and those with EHCP, they cover the following topics
Reputation-how poor choice behaviour can become habit, bad habits can lead to poor reputation-Reputation can limit opportunities
Positive Relationships- peer : peer pressure, treating others fairly and equally- Respect
Knife Crime Prevention and Awareness- Home Office PowerPoint
Future Aspirations- Life outside of Basildon- What you need to make it happen-cultural capital
Reflection & Recap of what's been learnt- Open Discussion
September 2021
Young Carers – currently we have 121 young carers identified at woodland school. Over 100 of these referred into external support charities including Essex Young Carers, Kool Carers and AFFC. Winter cookery workshops have been planned for January 2022.
December 2022
Pre-loved Clothing Bank - To raise money for our Young Carers and Vulnerable families a Pre-loved Clothes sale was arranged 7th and 8th December. We had many generous clothes donations and raised £127.00. Another clothes sale is being organised for the Easter Holidays, making it an all day event with the hope more of our families will be able to attend.
Vouchers - Vouchers were secured from 'Call of the Wild' and Go Karting at Festival Leisure Park. The criteria for the draw were for pupils who had shown extra resilience and improved attendance. The draw was done before February half term.
Young Carers Christmas Feast – On 15th December we cooked a full Christmas Dinner for 20 of our Young Carers. The dinners included all the trimmings and the children had a fantastic time, forgetting their troubles if only for a short while. This hasn't been done before and we are already planning to do the same again this year!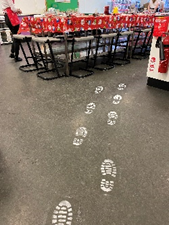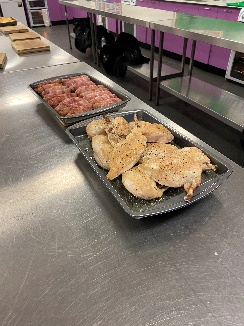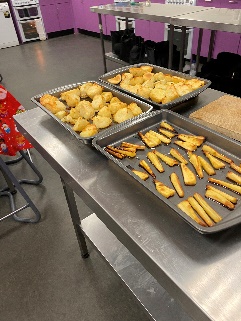 Christmas Hampers - On 20th December we put together 30 Food Hampers that went out to our most vulnerable families and Young Carers. Donations from local businesses were gratefully received. The hampers included meat, vegetables, mince pies, crackers and the little luxuries most of us take for granted.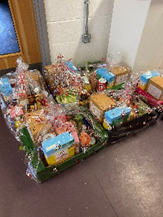 Mental Health Performance - We were lucky to have the theatre group N-act in last half term. They performed a powerful piece on Mental Health called Invisible, which was derived from a true story. The topics covered included; self harm, anxiety, depression and eating disorders. Statistics were given to show just how many young people are affected and about support that is available. The purpose of the play was to also show that there is light at the end of tunnel, that with support you can get through what is a difficult time.
Feedback was gathered from pupils selected at random, all reported how they much preferred to learn about topics like this through this method. All reported that the play increased their knowledge on mental health and they had a better understanding.