Pupil Leadership Roles
PUPIL LEADERSHIP ROLES
At Woodlands we are passionate about developing leadership skills in all our pupils. We want to ensure that they can grow their Cultural Capital, being confident to stand out from their peers with pride when they leave our school.
The Pupil Leadership Structure at Woodlands School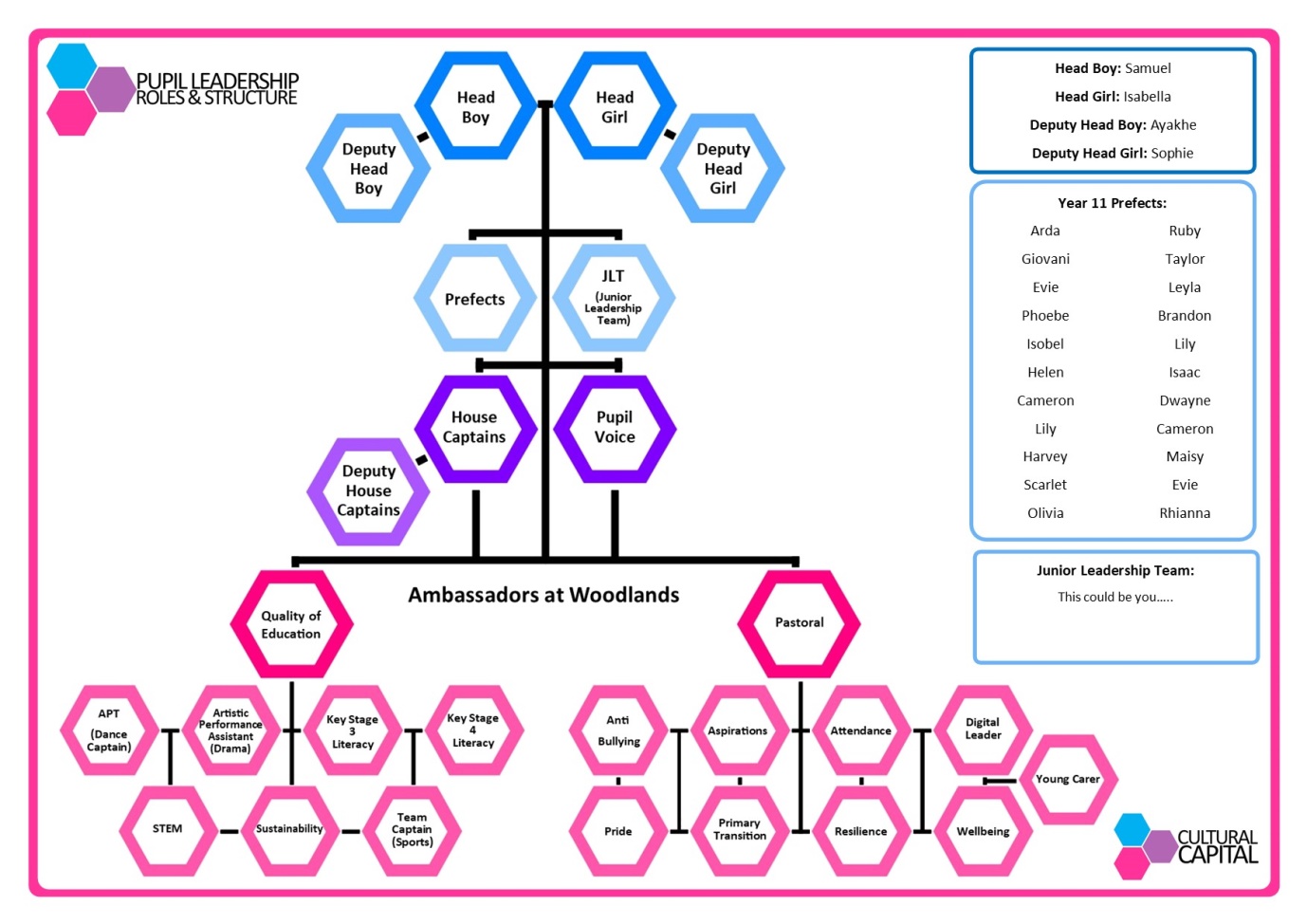 We are very proud of the pupils who undertake a Pupil Leadership role. There are 25 different roles that pupils can apply for, and over 290 positions available through the roles across the whole school.
We want to give all pupils an opportunity to recognise the positive impact that identifying and developing their leadership, interpersonal and soft skills can have; especially when it comes to applying this to the real world that they will encounter when they leave Woodlands. To support pupils in this identification and development, each leadership role has a job description, an application process, and pupils will receive a salary for carrying out their role as they would in the real world (see individual job descriptions).
Pupil Leadership Roles (Job Description Links)
Leadership Role

(Click on role for Job Description)

Year Group

Linked Documents

Training Given

Link Staff Member

10-11

Head Boy/Girl Application Form

Yes

Head of Year

10-11

Use the form above

Yes

Head of Year

10-11

Yes

Head of Year

7-11

Yes

Miss Ash

7-10

/

Yes

Miss Ash

7-10

Yes

Mrs Robertson

7-10

Yes

Mrs Robertson

Quality of Education Ambassadors

7-10

/

Mrs Brown

8-10

/

/

Mr Townsend

7-8

Yes

Mrs Handford

9-11

Yes

Mrs Handford

7-11

/

Miss Williams

7-11

/

/

Mrs Fry

7-11

/

/

PE

Pastoral Ambassadors

7-11

Yes

Mr Druce

8-10

Yes

Mr O'Connor

7-11

/

Mrs Elliott

7-11

Digital Leader Application Form

Yes

Mr Druce

7-11

Yes

Miss Ash

7

/

Mrs Atkinson

7-11

Yes

AHOY

7-11

Yes

Mr Riste

9-11

/

/

Mrs Ives
Pupil salaries are paid half termly should they fulfil their duties. All pupils will receive a badge for their role which we expect them to wear on their blazer with pride.
Support
Should you need help writing letters of application or a cover letter please use the links below:
For more information about our Pupil Leadership Roles please contact Mrs Katie Heseltine - Assistant Head Teacher for Cultural Capital.