Rewards & the House System
At Woodlands School, students currently in Years 7, 8, 9 and 10 and their tutors are members of one of our six houses: Bath, Cambridge, Durham, Loughborough, Oxford and St Andrews. One of our vision statements at Woodlands, is to allow every pupil the opportunity to achieve academic excellence. Naming our houses after six leading Universities in the UK, aims to ensure high aspirations for all.
In each year group, students are divided into the R side (Resilience) and A side (Aspiration) and they are placed in houses accordingly, as shown below.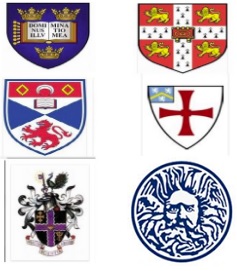 A1 and R1 – Oxford
A2 and R2 – Cambridge
A3 and R3 – St Andrews
A4 and R4 – Durham
A5 and R5 – Loughborough
A6 and R6 - Bath
The house system aims to further promote achievement as well as contribute to the all-round development of all our students. We as a school community, will acknowledge and reward the successes of our students not only in house competitions, but in the form of reward points (using the ePraise reward system)Our school motto is Aspiration, Resilience, Opportunity and Excellence and based on the core fundamentals of AROE, students will earn points for their house as well as themselves, so that they can be rewarded with AROE Bronze, Silver and Gold badges and eventually claim the highly coveted Cultural Capital Badge. In addition, aside from gaining badges, over time, students can spend their reward points they have accumulated in the ePraise shop or in prize draws. There are twelve badges to aim for and students will gain their AROE badges when they receive the following points in each category;
· 250 points – Bronze badge for Aspiration, Resilience, Opportunity or Excellence
· 500 points – Silver badge for Aspiration, Resilience, Opportunity or Excellence
· 750 points – Gold badge for Aspiration, Resilience, Opportunity or Excellence
The house and reward system will provide fantastic opportunities for all students to receive reward points in lessons, in a house event, or outside of the classroom environment, by demonstrating the schools core values of AROE.
Please view Epraise Support Guides below: